Several candidates, notable politicians and people visited Mindanao State University including the one that I featured on my blog post,
Sen. Chiz Escudero
and ZTE-NBN Deal Star Witness Jun Lozada (as he campaigned about the truth regarding the ZTE scandal against PGMA).
This annual year 2009-2010, three of notable candidates in the national elections were also invaded the school. One of them was Former Representative Gilbert Remulla, last January 13.

"The Politicians ([L-R] Lopez, Clapeco, Remulla [wearing orange colored t-shirt]) with the SSC Officers"
During his visit, he announced that he is going to run as a Senatorial Candidate under Nacionalista Party or NP led by Presidantial Candidate Manny Villar and is also supporting the Yacap Partylist led by Rep. Carol Lopez. The representative of 2nd District of Laguna Timmy Clapeco was also expressed his intentions to run in the incoming elections.

"YACAP Scholars"
Yacap Party awarded scholarship programs to ten lucky students from different colleges and also donated cash for the rehabilitation of the dormitory's glass windows and comfort rooms to the SSC President Earl Baguio.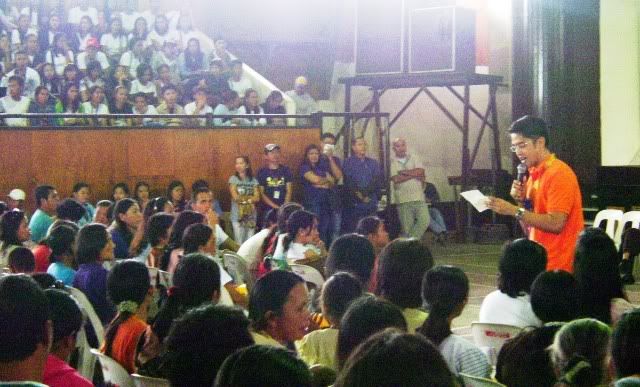 "Rep. Remulla discussing his intentions for incoming 2010 Elections to the students"
Next on the list was the "unexpected guest politician", Vice-Presidentiable Candidate Edu Manzano, last February 5.

"Mazano with his hilarious speech before the Open Forum"
Manzano is under the Lakas-Kampi CMD (LK-CMD) of Presidentiable Gibo Teodoro and is on the Administration Party. Because he's a well-known politician, gameshow host and a celebrity, many AB PolSci students asked him hot and sizzling questions. One of it was his capacity of handling the problems in the national once he is elected as the VP of the republic. "Don't expect to answer that question, as long as I serve the nation, I cannot predict my capacity. It's on my virtue.", he answered.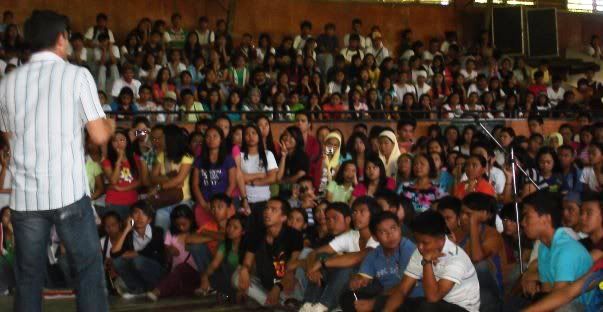 "Students focused on Manzano's answers during the Open Forum"
Lastly, as a surprise guest last February 17 during CWTS-2 class of 1st year students, Senatorial Bet and Representative Risa Honitveros visited the university. Hontiveros is under the Liberal Party of Presidentiable Candidate Noynoy Aquino. She was the guest speaker in Voter's Education Program led by AkBayan Partylist GenSan.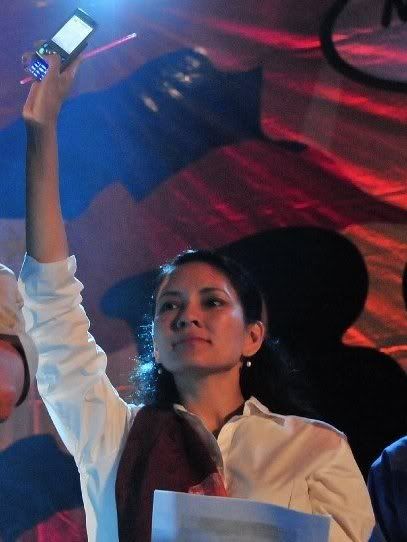 "Risa Hontiveros (Image Courtesy of Risa Hontiveros' Facebook Account)"
As a blogger and a commentator, I don't like or want politicians who were keep on saying promises for the betterment of the country. Tried and tested. Personally, I like the line on what Manzano answered to one of the questions, "I'm not like other politicians na 'kung tatakbo, meron nang platforms and promises." Yes, in reality, this is true. That platforms and promises, pang-enganyo lang 'yan sa mga botante na dapat bobotohin sila just because he or she will do this and do that, etc and etc. This incoming 2010 elections, we must be vigilant, inspect or investigate your candidates for the particular position especially the most important: The President. Your vote will change the situation of the country. :)